2010 ENGAGEMENTS

MotoCatman Race Preparation attended on behalf of my clients the South African TT Revival meeting which took place in 2010 and 2011 at the Zwartkops Circuit near Johannesburg, the Killarney Raceway at Cape Town and East London near Port Elizabeth, South Africa.

The idea of the TT Revival is for race machines from the 50's, 60's, 70's and 80's to be displayed and paraded by the stars of yesteryear. The series in 2010 was attended from the UK by Mick Grant, Suzuki RG500, Tony Salt, Suzuki GSXR 750 Superstock, Ian Nash, Yamaha TZ250, Peter Broadbent, Yamaha TZ350, Phil Read, 500cc Manx Norton, Steve Maxwell, Honda RC30, Steve Sawyer, Honda RC45, Steve Plater, Suzuki RG500 & Honda Fireblade, Alan Walker, Ducati 888, Roy Thearsby, Ducati 750F1, Bryan Baines, Ducati 750F1, Robin Buxton, Alan Cathcart, 7R AJS, and amongst others from South Africa, Dave Petersen, Suzuki RG500 XR70 reed valve, Keith Zeeman, Suzuki RG500 Mk7, Les Van Breda, Suzuki TR750, Jim Redman, 250cc Honda 4, Jimmie Guthrie, 350cc Manx Norton and 250cc Ducati.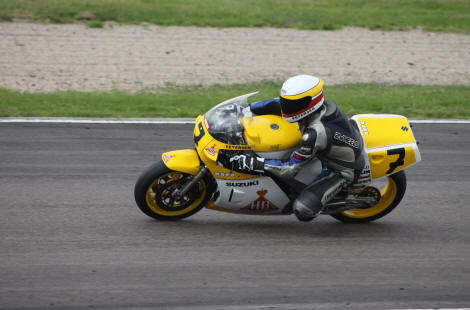 Dave Petersen on the reed valve XR70 Suzuki I was looking after this year at Zwartkop, his actual race bike from 1986.
Dave Petersen and I hard at work, discussing set-up.....
Yes, that's the Mk7 I restored early last year, being ridden by Keith Zeeman at Killarney